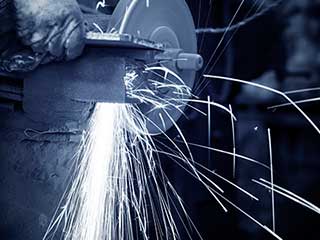 An automatic gate that's become stuck can ruin your day. Not being able to get in or out of your property is likely to be hugely inconvenient – if this happens to you, we understand you'll probably need help as quickly as possible. If there's something wrong with your gate, don't hesitate to give us a call - our team provides a variety of diagnostic, repair and replacement services.
What Can Go Wrong?
Almost anything! In addition to warping, denting or oxidization that can clog your tracks and hinges, an automatic gate can suffer from opener faults or frazzled wiring, leaving the system non-functional. If you have a remote controlled or 'smart' system, problems with the software or sensors can wreak havoc on your system and make it open, close or just ignore your commands without warning. With over a decade of experience in the field, we know just about everything that can go wrong with a gate; whatever the problem is, our team will identify and resolve the issue.
Swinging Gates And Sliding Gates
Most gates either slide into place along a set of fitted tracks or swing open. Either style of gate can be hand powered, or automatic and in the latter case can be hooked up to a variety of control systems, sensors and special security features. Each style of gate has its own mechanical failure points.
Mechanical And Electrical Repair
Denting, warping, or rusting of a gate's tracks and hinges can eventually leave the gate unable to open or close properly - faulty wiring can also stop your gate from responding when you're trying to use it. We can repair mechanical damage and remove rust on the spot – we can also straighten and lubricate the tracks or hinges to prevent the problem from returning. If a wire is faulty, we can patch or replace it as soon as the problem is found.
High Quality Parts
Sometimes, an opener or gate system will need to be replaced altogether. If that happens, our team will be happy to go through the list of styles and manufacturers on offer. Our experts in Aurora can help you pick a replacement that fits your needs and price range, and install it for you with minimum hassle.
Allow Our Repair Experts To Handle The Problem
Sliding Gate Operator Repair
Residential Gate Openers
Ornamental Iron Gates
Driveway Gate Repair