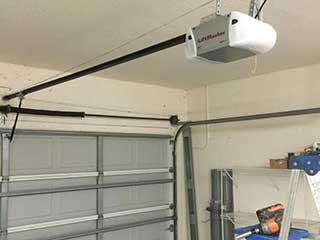 Any machine that operates under as much stress as your garage door does needs to be serviced from time to time. It's important that you ensure that the different parts receive the maintenance they need so that they'll be able to continue functioning for as long as possible. Our team offers regular service visits during which we will test and adjust your system until we're certain it's working in optimal form.
A Drop of Oil
Lubrication is a major part of garage door maintenance as it helps the moving metal parts suffer less friction. That means they will wear out slower, and the mechanism will last longer. We'll make sure the rollers, hinges and torsion springs are all applied with the right kind of lubricant, so that the door's performance will be smooth and silent.
Speaking Of Springs
Our technicians will also test the balance of your door, and carry out any required spring adjustment afterwards. This is important in order to maintain the functionality of the opening mechanism, and to alleviate some of the strain the springs are under. Remember, though, tempering with these components can be extremely dangerous, so you must never attempt to do so on your own.
Safety Above All Else
The most important part of our maintenance service is testing the opener's different safety features. This helps us make sure the motor unit is ready to reverse the door in the event something gets in its way. We'll check the photo eye sensors' alignment and the functionality of the auto-reverse mechanism, and adjust either or both if we discover they're not working correctly.
Make Your Door Last Longer
Get the most out of your system by having our experts at Garage Door Repair Aurora take care of your maintenance requirements. You'll save money on preventable repairs and avoid all sorts of malfunctions.
Our team can also take care of:

Bottom Seal Rubber

Extension Spring Adjustment

LiftMaster Garage Door Openers

Part Replacement & Repair