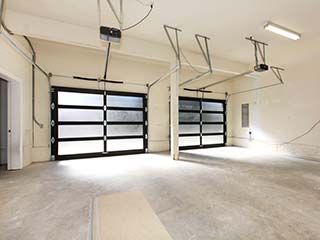 The opener, which is the motorized unit that powers and automates the operation of your garage door, can experience all sorts of issues over time. It's the nature of such a complex machine to suffer from all sorts of wear and tear related issues, whether it's a motor gear that wears out, a piece of the drive system that breaks off or problems with the electrical components, like the circuit board or the safety sensors. Whatever the case may be, you can rest assured that our experts will be able to troubleshoot the problem and fix it for you.
Hardware Related Issues
As we mentioned above, wear and tear can be a significant problem, especially over time. The friction between the moving metal parts will gradually lead to their degradation, until they end up breaking altogether, or becoming too worn to function. A screw drive opener needs to be lubricated for this very reason, and a chain drive unit needs to have its chain adjusted (and lubricated too). Not only can our team quickly fix or replace any of the unit's main components, we can also offer you a regular maintenance service that will test and adjust the unit's different settings to ensure everything is working correctly.
Testing The Photo Eyes
These components are what prevents your opener from closing the door while there's an obstacle blocking its path. If they fail to work properly, or if they get out of alignment, your safety could be compromised, which is why testing their functionality is so important. Another safety feature that needs to be checked is the auto-reverse mechanism. This mechanism reverses the door when it encounters physical resistance on its way down, and it serves as a backup for when the photo eyes may miss an obstacle. The opener's force limit switch needs to be adjusted if this feature fails to work properly. As part of our maintenance routine, we'll test both features and correct their settings if they fail to meet our standards.
Looking For a New Opener?
Our team at Garage Door Repair Aurora can also help you upgrade your motor unit and get a new modern model installed. We'll help you choose between the different options so that you'll find the best opener for your home. Contact us today for more information.
Let our team take care of it for you!

Replace Door Sections

Opener Clicker Repair

Galvanized Torsion Spring Replacement

Garage Door Opener Track Maintenance