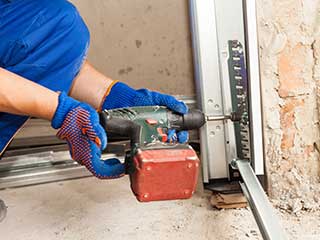 Complex mechanical problems can feel like a waking nightmare for those of us who aren't used to dealing with them. Even if you do consider yourself a DIY enthusiast, dealing with garage door problems can be not just complex, but dangerous too, as this mechanism is under a lot of stress and can cause serious injuries when it's mishandled. We urge you to leave problems to our professional technicians who possess the experience and the skills to repair everything while adhering to strict safety standards.
Broken Spring Replacement
Some of the most dangerous parts of any garage door system are the springs. These components provide a counterbalance to the weight of the panels, which means they are under constant tension day in and day out. Trying to conduct garage door spring repair or replacement on your own is very dangerous, so we urge you not to do so. Our team will be glad to lend you a helping hand and to take care of any type of issue these components may present.
Opener Not Working?
While the springs can be affected by purely mechanical issues, your garage door opener is a different story. It can suffer from worn gears and problems with the drive system, but it can also experience electrical malfunctions that can cause to fail to start at all or to behave in a very erratic manner. Whether it's the circuit board that's responsible for the problem or misalignment of the safety sensors, our experts will troubleshoot the opener and solve the problem in no time at all.
Everybody Needs Some Help Sometimes
It can be a real headache to try and work out exactly what's causing your door to act up. From bent tracks and worn rollers to wiring issues and frayed lift cables, the potential causes are many. Whatever the malfunction may be, simply contact our team at Garage Door Repair Aurora and we'll get it fixed in a timely fashion and for an affordable price.
Count on us for:

Emergency Garage Door Repairs

Belt Drive Opener Installation

Garage Door Tune Up Services

Broken Spring Replacement & Repair